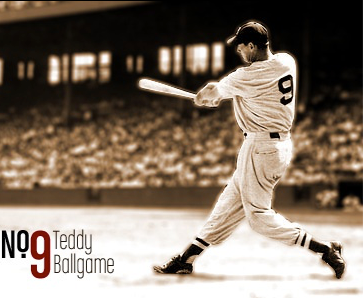 We recently witnessed Tom Brady win his 7th super bowl, furthering the notion that he is the greatest of all time (GOAT) of the NFL. The documentary The Last Dance: portraying Michael Jordan and the Bulls winning their 6th championship, reignited the conversation of him being the GOAT of the NBA.
What about baseball? Is there any consistency of who the GOAT of MLB is? It is difficult comparing pitchers and those playing infield versus outfield. Even defining the best hitters is difficult.
I would like to pitch (pun intended) who I believe should be in the conversation as one of the greatest hitters of all time; Theodore (Ted) Williams. (do not worry, I will relate this to investing)
Ted Williams (aka Teddy Ballgame)
Ted Williams played for the Red Sox from 1939-1960. He had a great start with; .327 batting average, 145 RBI's, and 41 home runs his rookie season, instantly making him one of the best hitters in the league. His sophomore season Ted had a bad hitting slump the first few months, which started criticism and heckling from the media and fans. It began a love/hate relationship Ted would have with the media and fans. Ted took this personally and wouldn't acknowledge the fans (tipping his cap) for the rest of his playing career. It's fun to note that even with the (bad start), he ended the season with a .344 batting average, 113 RBI's, and 23 home runs.
In 1941 he had a batting average of .406: the last person to hit above .400. The season ended with a doubleheader; Red Sox manager Joe Cronin offered to sit Ted since he had a .401 batting average. Joe wanted to make sure Ted would finish the season above .400; Ted refused. At the doubleheader, he hit 4-for-5 in the first game and 2-for-3 in the second game.
Ted Williams followed that historic season with a Triple Crown performance in 1942 (356 batting average, 36 home runs, and 137 RBI's). What does Ted do at the end of the 1942 season while he is still in his prime after completing his first Triple Crown? He joins the US Navy to fight in WWII. Serving in the Navy made him miss 1943, 1944, and the 1945 season; during his prime years.
Triple Crown: Leading the league in batting average, home runs, and RBI's.
After not playing baseball and serving in the Navy for three years, he returned for the 1946 season. Without missing a step, he led the AL in batting average (.342) and home runs (38); was second in RBI's (123). He then hit his second Triple Crown in 1947: the last player to win two Triple Crowns.
Ted Williams would serve as a pilot during the Korean War in his 1952 and 1953 seasons. He batted .400 and .407, respectively, for those seasons; those results are not counted in the .400 record because they are not considered complete seasons.
Ted later won the AL batting title at age 40 in the 1958 season, the oldest player to win a batting title. He finished his playing career in the 1960 season; he hit a home run at his last at-bat. The fans called him out of the dugout to cheer for him; Ted still refused to come out of the dugout to be recognized.
Ted was elected into the Baseball Hall of Fame in 1966. He ended his career with:
.344 career batting average (6th all-time when he retired, 7th today)
521 career home runs (3rd all-time when he retired, 20th today)
1,839 RBI's (7th all-time when he retired, 15th today)
.482 career on-base percentage (ALL-TIME LEADER)
12x on-base percentage leader in a season (ALL-TIME LEADER)
84 straight games getting on base in 1949 (ALL-TIME LEADER)
.6338 career slugging percentage (2nd only to Babe Ruth)
17x all-star (7th all-time)
2x MVP (1946 & 1949)
2x Triple Crown (1942 & 1947) The last player to win two
The last player to hit above .400 in a season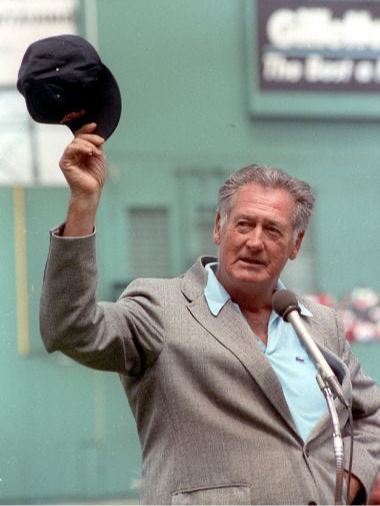 Ted accomplished his baseball career while serving in two different wars during his prime (1943-1945 & 1952-1953). Serving in the military resulted in him only playing 17 full seasons, while almost all other MLB legends play 20+.
"Ted Williams was the best pure hitter I ever saw." - Willie Mays
In 1991 the Boston Red Sox hosted a Ted Williams Day to celebrate his .400 season. After a brief speech, Teddy finally tipped his cap to the cheering fans in Boston.
The Science of Hitting
To learn more about his incredible story, he wrote his autobiography called My Turn at Bat. The second book he wrote, The Science of Hitting, describes his hitting technique.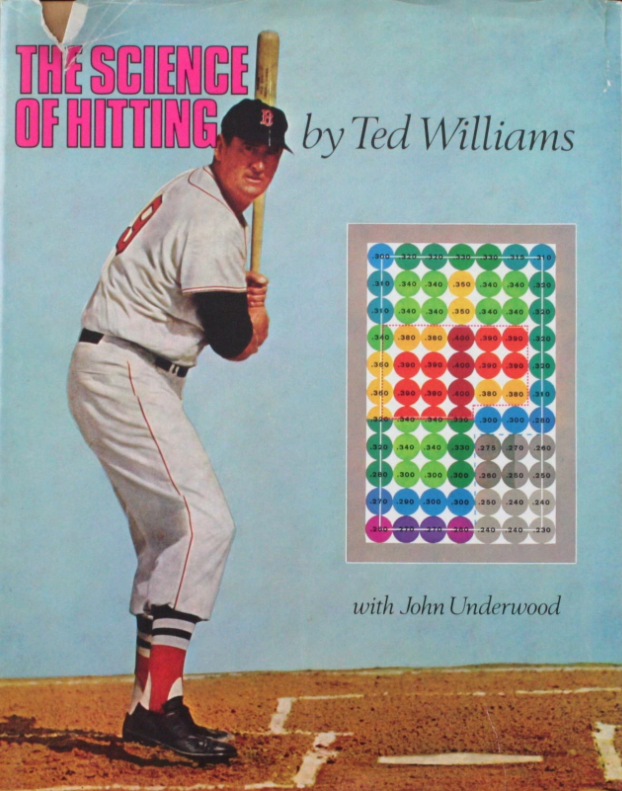 There is a portion in The Science of Hitting that is very useful for investors. In the book, Ted pictures the strike zone made up of 77 baseballs. Inside each ball represents a number that he felt would be his average if he were to swing in that zone. By doing so, Ted recognized where he struggled and where his "sweet spot" was. He believed the best way to have a high batting average is to swing only when the ball is at a location you experience the best results. I hear baseball coaches today say, "If you strikeout, make sure you strikeout swinging." That is not what Teddy Ballgame believed.
Ted Williams would only swing at a ball that he had a high chance of success with, even if it meant striking out. There were areas of the strike zone where he batted .230, and there were areas of the strike zone where he batted .400. Ted understood if he waited for a pitch in his sweet spot and not swing where he had a low batting average (even though they were strikes), his batting average would increase.
This science of hitting concept is hard to follow. First, you have to be honest as a hitter where you are successful and where you struggle. Second, you have to be disciplined enough to stick to the science during a live game. You have to wait for that fat-pitch.
Circle of Competence – How does this relate to investing
The science of hitting is very similar to being a successful investor. The idea of understanding our boundaries is what we call our Circle of Competence. There are thousands of investment options Steve and I can invest in. The process to generate an investment are endless.
As an investor, you need to understand your circle. What business models and consumer mindsets do you comprehend better than the general market does? This is not referring to a better understanding of stats (quantitative values) but a better understanding of behavior (qualitative values). As you are researching an investment idea, there is no reason to try valuing something without first concluding if it's within your circle of competence. We have clients who ask us about investment ideas, and sometimes my answer is, "I have no idea; that is outside of my circle of competence." An investor should always try expanding their circle of understanding but never invest outside of it.
Investing is a better game than baseball for two reasons.
1) The strike zone is not limited to 77 pitches. There are tens-of-thousands of investment options. The variety is immense with different asset classes, the size of investments, geography, etc.
2) Investing is a no-called-strike game. After three strikes in baseball, you are sent back to the dugout until your next at-bat. In investing, you can miss an infinite amount of strikes. You are not forced to walk away. You can continue to keep the bat on your shoulder and wait for that fat-pitch to swing.
A lot of people are making money in ways you (and I) are not. Sometimes we get the urge of greed and try copying what others are doing because they are experiencing success. Trying to invest in areas you don't understand typically leads to failure. Just like in baseball, it's not about swinging but avoid swinging where your chance of success is low. My fat-pitch is unique to me. I am perfectly content watching others make money in ways I don't understand. Always focus on your circle.
When a fat-pitch presents itself to you, swing with full force. You never know when another fat-pitch will present itself. There are moments when I might be consistently swinging and moments where the bat sits on my shoulder. Many investors feel forced to swing at mediocre ideas for the sake of diversification. We believe in the principle of diversification, but not at the expense of swinging at bad pitches. This leads us to a more concentrated investment strategy than most portfolio managers. Investment managers lose more money investing in areas they don't understand versus concentrating on ideas inside their circle.
Clients need to recognize that their largest holdings are our best ideas, our fat-pitches. Also, remember that we are investing along with you. Our best investment ideas are not just for our clients but our families as well. The majority of our wealth is where the majority of yours is.
EWM clients can trust that if they look at their top holdings, they are looking at a pitch thrown right in our sweet spot.
1) Baseball Almanac, Inc. "Ted Williams Baseball Stats." Baseball Almanac, www.baseball-almanac.com/players/player.php?p=willite01.
2) The Science of Hitting, by Theodore Williams & John Underwood
Evergreen Wealth Management, LLC is a registered investment adviser. Information presented is for educational purposes only and does not intend to make an offer or solicitation for the sale or purchase of any specific securities, investments, or investment strategies. Investments involve risk and unless otherwise stated, are not guaranteed. Be sure to first consult with a qualified financial adviser and/or tax professional before implementing any strategy discussed herein. Past performance is not indicative of future performance.