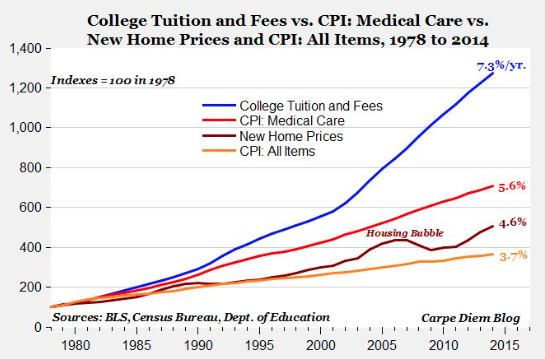 Receiving a degree and gaining higher level education after high school seems to be getting more expensive.
Based on 2016 dollars, the College Board illustrates the average costs of a public university 4-year degree in 1980-81 was $2,320, compared to $9,650 for 2016-17 school year.(1) That is an average annual increase of 4.04% above inflation.
Bureau of Labor Statistics shows a 7.26% nominal annual increase in college tuition and fees.(2) In comparison the BLS shows general inflation at just over 3%, Medical over 5.6%, and new home prices at 4.6%.(2)
Most students graduated with no debt in 1990, today more than 70% left school with debt in the sums of tens of thousands (even hundreds of thousands) of dollars. Which is why we have over $1.3 trillion in student debt in the U.S., which represents 6% of the national debt according to Center for Investigative Reporting. That is even more than what we owe on credit cards.
None of this even includes the fact that nearly one of every three college freshmen drop out of school, and about half complete their 4-year degree in four years (some take six).
It's no wonder why the cost of college is such a worry in today's society.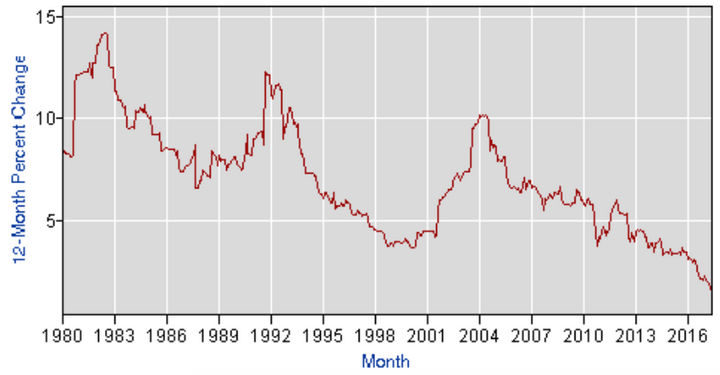 I believe this will not be normal for the future of our kids or grandkids. I believe most education will be much cheaper, and in some cases free in the future. We have already seen a trend in decreasing college cost per year according to our next chart from the BLS. As of right now the average costs of a public university 4-year degree is growing less than 2%.
For the students of today there are many ways to keep college affordable, which may include:
1 – Go to a cheaper community college for two years.
2 – Test out of as many college courses as possible through CLEP exams.
3 – Take post secondary education in high school, taking college courses for free in most cases. (if your state allows it)
4 – Applying for as many school and private scholarships as possible
5 – Intern or work at a company that will pay for your college.
University of Michigan just announced on July 15, 2017 any in state student whose household makes less than $65,000 a year has free tuition. Tennessee lets every high school graduate attend community or technical college for free. At Arizona State University W.P. Carey school of Business, all its MBA students attend for free. There are other examples like these which exist today.
What the Future of Education will soon look like
Understanding that we will be living longer and much healthier in the future (an article worth writing in the future) and the workforce changing dramatically due to A.I. and exponential technology (we talked about in Automating the American Workforce), the environment of secondary education will change also. For example, 10 years ago the iPhone didn't exist, yet today hundreds of thousands of people have a full time job creating apps for the iPhone App Store. Careers in the future will appear instantly and taking 4 years to be educated in that field (after years of the college learning how to teach that profession and putting together a curriculum for it) will not be fast enough. At some point people will study a career, perform that job for 5-15 years, go back to school to learn a new career or an advanced in the same career, and repeat the process 2, 3 maybe up to 8 times in someones lifetime.
For the students of the future there are several trends occurring I think will not only change the future of education but decrease the cost of education dramatically.
Free Textbooks
The easiest way this will be done is content will be put online, mostly on student/teacher portals. It's already happening (I experience this in several of my college classes). Achieving the Dream, a project serving community colleges of over 76,000 students uses a digital library. 100,000 community college students in Virginia are using various open resources instead of buying books. The University of Maryland has eliminated traditional textbooks for over 64,000 undergraduates and replaced with online material. OpenStax College produces peer-reviewed digital textbooks for free for over 700,000 students at 1,885 schools.
MOOC Education and Online Learning
The first example of this was when Sebastian Thrun, a research professor at Stanford, created an online course on artificial intelligence in 2011. 160,000 students attended from over 190 countries aged 10-70, 23,000 students completed the class and 250 earned perfect grades. Thrun then cofounded Udacity, which is an online site that offers low-cost to free programs that focus on specific career education that they call "nano-degree programs". They focus on providing vocational courses for professionals. If you want to learn about building or developing self driving cars, they have a degree for that. This is known as MOOC learning, or massively open online course. They have taught over 1.5 million students from all countries.
Hundreds of universities and programs today are offered through MOOC learning. Coursera is another example, offering over 4,200 courses provided in 122 institutions and have taught more than 35 million students worldwide. Some of the institutions that offer MOOC learning is Penn State, Johns Hopkins, Northwestern, Yale, Caltech, MIT, Harvard and the list goes on. You can learn the knowledge and research behind developing and understanding the Schiller P/E ratio, from Schiller himself through Yale's MOOC learning. Best of all, most cost less than $100, or its free.
Education without teachers
This is not true with MOOC learning, but in many robotics or computer focused programs you can receive that education without needing a teacher, at all. 42, a Paris university, goal was to teach 10,000 students how to create computer codes by 2020. 42 is completely free and has no teachers. Opened in 2013 it received 20,000 applications and admitted 2,500 students.
Another example is Hole-in-the-Wall Education Project (HiWEP). Sugata Mitra, chief scientist at NIIT, in 1999 experimented if computers could facilitate unsupervised learning not in the offices of New Delhi, but in the slums of society. His team literally inserted a computer in a hole and waited. Soon, children living in the area began using the computer on their own and developed proficiency without any supervision. There is more than 100 HiWEP stations in India.
Evergreen Conclusion
While no-one with 100% accuracy can predict the exact cost of what college will be in 20 years, we are able to notice trends of how education is changing and how it will need to adapt as the workforce adapts. After all, the main reason to gain higher education is to learn specific skill sets that you can apply in the market place.
In the future, with A.I. and exponetial technology, some careers will appear and be around for 5-15 years, then become obsolete or easily replaced. People will need to quickly educate themselves to advanced in something else for another 5-15+ years. In order to keep up, education will need to become cheaper, easier to obtain and faster to complete.
1 – College Board, https://trends.collegeboard.org/college-pricing/figures-tables/tuition-and-fees-and-room-and-board-over-time-1976-77_2016-17-selected-years
2 – Bureau of Labor Statistics
3 – The Truth about Your Future, book
Evergreen Wealth Management, LLC is a registered investment adviser. Information presented is for educational purposes only and does not intend to make an offer or solicitation for the sale or purchase of any specific securities, investments, or investment strategies. Investments involve risk and unless otherwise stated, are not guaranteed. Be sure to first consult with a qualified financial adviser and/or tax professional before implementing any strategy discussed herein. Past performance is not indicative of future performance.